Al and I went on another adventure to visit friends and relatives in our motorhome. We visited with Cousins Mark and Colleen Myers in Cleveland, TN. Always fun to hear about Marks latest birding trips. He has been all over the World banding birds and taking wonderful pictures.
Our next stop was Plano, TX to visit Nephews Jeff and Rob. We stayed in a RV park nearby and had the pleasure to meet a group of Venezuelans who were celebrating their friend's birthday. We talked with one of the couples who gave us a dining suggestion, Hola Cafe. It is in nearby Carrollton, TX. They were absolutely correct that their country's cuisine is delicious.
On to Tucumcari, New Mexico then heading home. Since we were going across the upper corner of TX and OK then through Kansas we stopped in Kansas City, MO to visit my boss from Adria Laboratories, Karen and husband, Kevin. As far as boss' go, she was the best. She always championed her employees plans for their career and would take the heat to see that everyone was fairly treated.
On our way through Illinois, we were very close to Pana, IL where three times great grandparents William and Hannah (Milliken) White are buried. I cleaned their stones as good as possible. The rain, if it comes, will help to further clean their stones. I will be contacting a local stone mason to right their stones.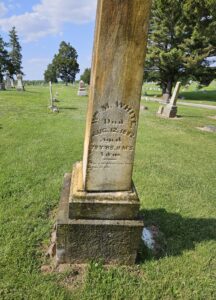 I have DAR supplements for both of these ancestors. Thomas White is the grandfather of William and his brother, Thomas' son, James great grandfather. James also married Sarah White, daughter of previously mentioned and pictured above William and Hannah White. Making two supplements for the same ancestor. Hannah Milliken's grandfather was Samuel Milliken. I proved him as a new Ancestor.