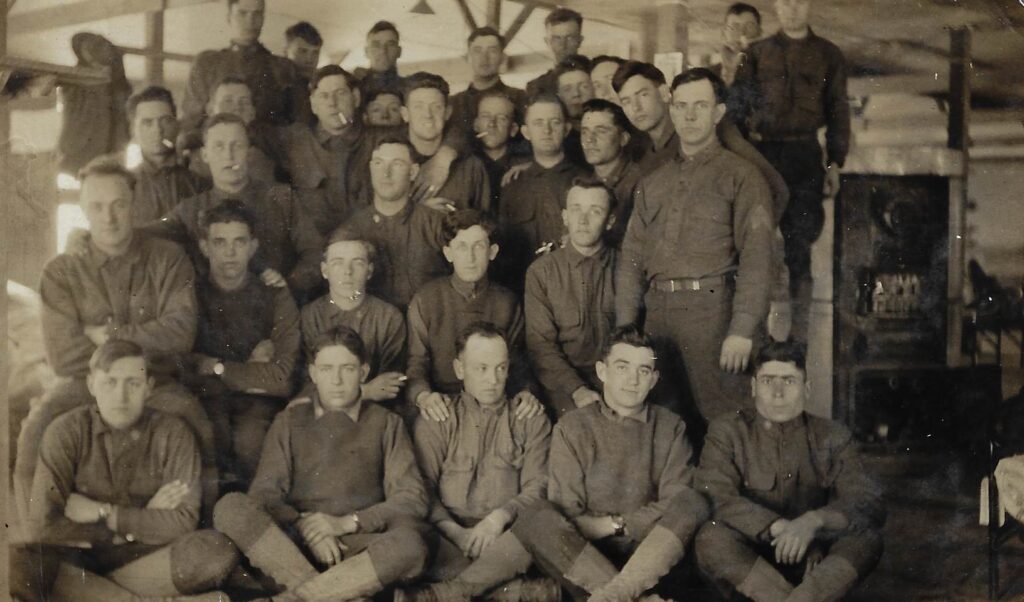 List of men, not necessarily in order: Eister, Stipler, B.Brown, Bolle, Longo, Laux, Kocher, Decker, C. Smith, Cleon Smith, Sgt. Culver, Ferrera, Brady, Hackenburger, J. Kelly, Krocto, Corp. White, Hartzel, Burns, Corp Sally, Heims, Corp. Reed, Howley, Gardner, Fritz, Cathers, Murphy, Edwards, Barefoot, Booker, Crozier
The picture above was sent to me after Christmas, 2021, by Cousins Bill and Kathy McCord. Our grandfather is pictured third row up on the right, peaking around the soldier standing in the second row. This is Company H, 314 Infantry group at Camp Mead, MD in 1918.
Grandpa White enlisted in the Army Nov. 2, 1917 and was discharged Mar. 13, 1919. At the time of the photo he was a Corporal, however on discharge was a Sargent in Co. 35 153 Depot Brigade (formerly 191 Hoboken Casual Co. ). He served overseas for seven months. He participated in the Battle of Montfaucon (France) that was part of the Meuse-Argonne Champaign. This was the first battle to use chemical warfare and was considered one of the most significant of the campaign.
Corp. White also fought in the Malancourt and Nantillious, France battles before returning to the United States for discharge at Camp Dix, New Jersey. His discharge states that he did not have any wounds, however my mom (Martha White) stated that he had burn scares on his arm from the chemicals that were released in the battle of Montfaucon.
According to the CSI Battlebook for the Battle of Montfaucon, "the sector (304) facing north toward Malancourt, Montfaucon and Nantillious , covered not only the most impossible terrain in all the Meuse-Argonne area, but was also placed in front of the greatest obstacle in the sector – the village and area around Montfaucon…. Sector 304 was part of the battlefield of Verdun, fought over by the armies of France and Germany for four years. " "Within the Avocourt-Malancourt sector, the Germans held on to their most formidable positions on the entire Western Front.
I hope descendants of the 314th Infantry find this photo and can identify their relative. If you would like to share that information feel free to contact me.